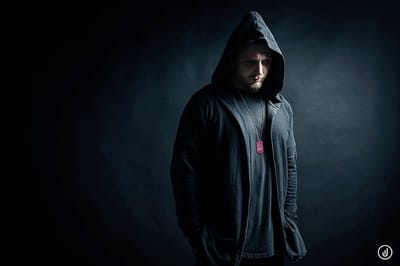 Canadian powerhouse Atroxx is at the forefront of a new generation of techno artists enriching the genre with fresh energy and ideas. Equipped with deep musical knowledge, an obsessive approach to production and an innately progressive mindset he has earned himself a formidable reputation as a producer. With releases on an array of respected underground labels, including his own Starskream, Atroxx is respected and admired across the techno world, courting favour with both his peers and more established heads. A drummer since his teens, he has a distinct approach to drum programming, with acute awareness of the power of beats and their critical role in techno music. As a DJ he is equally switched on, commanding the dance floor with powerful layered mixes, potent percussion and mesmerising atmospherics. Poised to unleash his debut album The Second Renaissance, Atroxx continues to embody the core ethos of techno, looking ever forward in his pursuit of higher states of musical consciousness.
Surrounded by music when he was growing up - his father runs one of the oldest music schools in Montreal - it was inevitable Atroxx would become a musician himself. Early on he played in bands, moving into solo production when those groups dissolved and he needed an outlet to create without relying on other musicians. His first encounters with electronic music came via two key albums; The Fat of the Land by The Prodigy and the soundtrack to 1995's Mortal Kombat movie. Both gave him a taste of high-octane electronica; intense, emotive and powerful vibrations. These core characteristics remain at the heart of his output, which has captured the imaginations of followers, peers and tastemakers alike.
What makes Atroxx such a fascinating artist is his open minded appreciation of music, privately producing a variety of styles under different names; from deep house to liquid D'n'B. He listens to it all, finding beauty in every genre, subscribing to the notion that there are only two types of music; good and bad. This feeds back into his techno persona, where he refuses to be bound by genre limitations. By keeping his perspective expansive, Atroxx injects a nonlinear flavour into his music bypassing standard tropes and arrangements to construct his unique sonic identity.
In 2012 he decided to immerse himself in production, spending up to 10 hours per day, almost every day, obsessively creating, studying, producing and experimenting. This intensive way of working took him further and further down the rabbit hole of discovery, refining his craft and constructing his distinctive audio fingerprint. Besides his heroes Nine Inch Nails, Prodigy, and Monoloc, Atroxx's hometown Montreal was a key source of inspiration. The city's rich, diverse culture and its music scene are revered around the world. Progressive and inclusive, Montreal's party scene attracts international selectors with clubs such as Stereo rated among the best in the world, not to mention the after-party scene, Piknik Electronik and the city's fertile community of musical talent. In Montreal Atroxx experienced the depth of club music, from trance to minimal, right through to contemporary techno. It's where he cut his teeth as a producer and as a DJ, watching some of the world's greats in action, learning about electronic music in a nurturing environment.
2017 marked a key milestone in his growing reputation with his debut on Italy's Analytic Trail, 'Trust Me', picking up support from a diverse list of influential DJs; Danny Tenaglia to Popof, Adam Beyer and Nicole Moundaber to Thomas Schumacher. This was a pivotal moment, galvanising his dedication to making music and sparking the realisation that he was on the right path. That same year he launched his own label - Starskream Records. Named after the DJ for heavy metal legends Slipknot, the label's ethos pays homage to the band, who are long-time idols of Atroxx. The bass and the drums are inspired by metal, further demonstrating his ability to circumvent the norms and 'rules' of techno to put his own stamp on the genre. It's a channel for his emotions, encompassing the full spectrum; from love and happiness to anger and depression. On the flip side, he wants his music and performances to act as a channel for people to release their own emotions; equally cathartic and therapeutic.Since then the label has maintained a steady output, Atroxx taking a considered, patient approach, recognising that it's all too easy to become a flash in the pan. Ultimately, his dream is to live comfortably from his work long-term, a reflection of his humble outlook. Eight years since he first started making electronic beats he is as determined, passionate and committed as ever, with hundreds of unreleased tunes on his hard drive and his debut album primed for release.
The Second Renaissance is a culmination of the last eight years, incorporating a wide range of styles from tribalesque rhythms to minimal aesthetics, experimental to all out techno all rooted in his own individual sound. Atroxx's aim is to tell a story, using the album format to really explore the many shades and textures within techno and beyond. The album signifies a rebirth, The Second Renaissance, a new phase for Atroxx who continues to push himself, artistically and personally. His core intention is to break down elitism; from within the techno world, to wider society, government and beyond in the name of equality, fairness and humanity. Music has the power to affect change and this album has been created to stimulate shifts and encourage transformation, juxtaposing powerful frequencies with moments of contemplation to touch the mind, body and soul. The music is open to interpretation, with Atroxx refusing to impose his own narrative on the productions, allowing the listener to elicit their own feelings and emotions from the album.
Atroxx's central belief relates to the notion that everything is vibration; the air we breathe, the ground we walk on, it's all vibration. With that as the foundation of our existence, he sees music as the universe's way of communicating with us. Musicians are a conduit, the music they create relaying messages, stories, emotions, feelings transmitted by universal consciousness. His creative energy runs deep, constantly overflowing to produce new music and resulting in a catalogue of music that is vast, all encompassing and deeply human. Listen to Atroxx and you'll hear echoes of the creative energy that governs our universe…